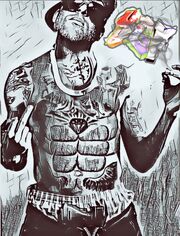 Young G Freezy is a rap artist from Riverside Colombia. He is part of the Outlawz and Thug Life. He has released 50 thoudand tracks out with Apple Music. One of the most proficient entertainers out there. He has a Spotfy Radio Station as well as an involvement in Streaming 187 FM and Death Row. He is also knows as ygf. He is in works with Fab Fibe, Killuminati i and FMC. He has ten mix tapes on dat piff and various albums on Apple and iTunes, as well as Spotify ,deezer, google play, Microsoft and various others. Young G Freezy is considered the top ranking hip hop artist in Colombia according to Todays Music And Esco The Source.
Young G Freezy Recently has partnered With Death Row Records North and Yung Pac the record label will is currently being developed to represent Death Row Records in the North, also gone Entertainment has picked up one of the films Young G Freezy worked the sound on and has released a full Studio Album Titled Grim the Soundtrack. Freezy Music Capital and Death Row Records North are also in production phase of a Tupac Bio Narrated by Shakur along with never before seen footage.
M0RE INFORMATION
[
]
Young G Freezy also has a team of entrepreneurs who will hunt down various investments and tech ventures inuding intellectual property and legal trademark purchases. He also recently signed to Socan and his works are protected as is his Image and likeness. He currently has sued over 50 artists for infringement and won successfully.