Tupac Shakur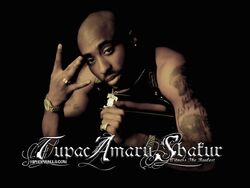 Info
[1]
Hip-hop, Gangsta rap
Groups
Thug Life, Dramacydal, Outlawz
Tupac Amaru Shakur (born June 16, 1971-Died September 13,1996), also known by his stage names Pac, 2Pac, or Makaveli, was an American rapper. In addition to his status as a top-selling recording artist, Shakur was a promising actor and a social activist. Most of Shakur's songs are about growing up amid violence and hardship in ghettos, racism, problems in society, and conflicts with other rappers. Shakur's work is known for advocating political, economic, social and racial equality. Shakur was initially a roadie and backup dancer for the alternative hip hop group Digital Underground.
Shakur became the target of lawsuits and experienced other legal problems. He was later shot five times and robbed in the lobby of a recording studio in New York City. Following the event, Shakur grew suspicious that other figures in the rap industry had prior knowledge of the incident and did not warn him; the controversy helped spark the East Coast-West Coast hip hop rivalry. Shakur was later a convicted sex offender, guilty of sexual abuse. After serving eleven months of his sentence, he was released from prison on an appeal financed by Marion "Suge" Knight, the CEO of Death Row Records. In exchange for Suge's assistance, Shakur agreed to release 3 albums under the Death Row label. On September 7,1996 Túpac was in Las Vegas during the mike Tyson fight when he got into a fight with a Southside crip in the mgm. Hours later Túpac was ambushed and was shot in a drive by with Suge where he was airlifted. Six days later Túpac was Pronounced dead at 25 from internal bleeding.
 
Year
Title
Role
Notes
1991
Nothing But Trouble
Himself
Brief appearance
1992
Juice
Bishop
First starring role
1993
Poetic Justice
Lucky
Co-starred with Janet Jackson
1994
Above the Rim
Birdie
Co-starred with Duane Martin
1996
Bullet
Tank
Released one month after Shakur's death
1997
Gridlock'd
Ezekiel 'Spoon' Whitmore
Released several months after Shakur's death
1997
Gang Related
Detective Rodríguez
Shakur's last film performance
2003
Tupac: Resurrection
Himself
Official documentary
2009
Notorious
Himself (archive footage)
Portrayed by Anthony Mackie
2013
Tupac
Himself (archive footage)

The official biographical motion picture of Tupac Shakur.

The film is currently being produced.

20??
Live 2 Tell
Screenwriter
Written by Shakur in 1996
2017 all eyez on me
Community content is available under
CC-BY-SA
unless otherwise noted.