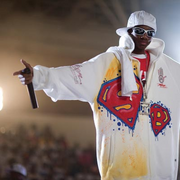 DeAndre Cortez Way (born July 28, 1990, age 26), better known by his stage name Soulja Boy or Soulja Boy Tell'em, is an American rapper from Atlanta, Georgia. Soulja Boy works with friend and fellow rapper Arab as well as Guccia Mane, Lil B, and hip hop producer Mr. Collipark. He founded his underground/independent label "Stacks On Deck Entertainment" and works with Interscope Records.
Early life
Edit
DeAndre Way was born on July 28, 1990 in Chicago, Illinois. His parents were divorced, and he went down South to go and live with his father.
Music career
Edit
He released a large amount of rubbish songs, key in creating the present dark age of hip-hop. Hell yea! Telling it how it is! Easily the wackest rapper ever. If you even consider him a rapper. Bullshit is what I would call it. His Mom should've eaten him.
Discography
Edit
Studio albums
Edit
Unsigned & Still Major: Da Album Before Da Album (2007)
Souljaboytellem.com (2007)
iSouljaBoyTellem (2008)
The DeAndre Way (2010)
Main article Soulja Boy discography
External links
Edit