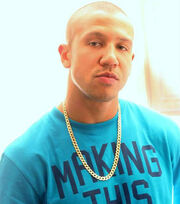 Artist:
Savvy Sav aka Young Savvy fka D-Man Fluid
Albums:
Thank GOD (2014), Go wit da Flow (2007), Blood, Sweat, N Tears (2005)
Life and Music:
Savvy Sav aka Young Savvy fka D-Man Fluid is originally from Houston, Tx but moved around a lot as a kid throughout the Midwest as well as Florida. He finally ended up moving to Los Angeles as a teenager. Savvy Sav's music melds the sounds and themes of the West coast and Dirty South cultures as well as much other swag acquired during his travels. Savvy Sav has completed three full length albums. His latest project, Savvy Sav "Thank GOD", was officially released on November 17th 2014. He is reportedly working on his next project "Kush Music" which is planned for the spring of 2015. Savvy Sav has sold over 45,000 albums independently online and hand to hand himself and with his dedicated street team and has toured all over the United States performing and promoting his music.
Links and related sites:
http://youtu.be/Zg3HlwaznOA?list=PLaSCsHOyt_8PfeI1XZQMGvjqKD28wo8Bg
http://youtu.be/1Plm_r1JhpA?list=PLaSCsHOyt_8PfeI1XZQMGvjqKD28wo8Bg
https://www.youtube.com/watch?v=FWwbj5YDoLM&index=1&list=UUfmq0G7ERcoL7gwW5zyBm0Q
https://www.facebook.com/young.savvysav
http://instagram.com/young.savvy.98
http://www.cdbaby.com/cd/savvysav
http://www.datpiff.com/Savvy-Sav-Savvy-Sav-Thank-God-mixtape.672738.html
http://www.mtv.com/artists/savvy-sav/
https://twitter.com/SavvySavMusic
https://www.tumblr.com/blog/savvysavmusic
https://www.flickr.com/photos/savvysav/
Community content is available under
CC-BY-SA
unless otherwise noted.