Horst Christian Simco or better known as Riff Raff (Peach Panther aka Neon Python aka Jody Highroller aka Mr. Lamborghini Leglock aka Aquaberry Backfist aka Neon Knuckles and many more) is a rapper from Houston, TX. He was originally managed by Swishahouse co-founder OG Ron C. After being associated with Soulja Boy's imprint S.O.D. Money Gang Inc., Riff Raff was signed to producer Diplo's record label, Mad Decent, from 2013 through 2015. He was formerly a member of the rap group Three Loco along with Andy Milonakis and Dirt Nasty, who reunited on Riff's "BALLOWEEN" 2016 Halloween mixtape performing "Bitches in my Driveway". The trio premiered a Christmas parody song, "Ho-Ho-Loco", in the TBS "SURPRISE! INSTANT XMAS CAROL!" special. Recently the group was featured in a Nerdist Industries production mixing DJ Khaled and Game of Thrones together remaking the 4x platinum, "I'm the One", into "It's My Throne" with the trio playing characters from the HBO show. His debut studio album, Neon Icon, was released on June 24, 2014, on Mad Decent. In April 2016, Riff Raff announced a partnership with Stampede Management and BMG, and a 4-million dollar deal for his own label and production company, "Neon Nation Corporation", to invest in music and in "movies and talent across the globe to build an entertainment empire".
Early Life
Edit
Born Horst Simco.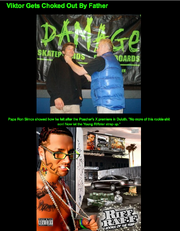 Social Media Involvement
Edit
Riff Raff, like many of his contemporaries in hip hop, aggressively engages social media as a manner of self-promotion. Because of this, Riff Raff is considered by many to be a "viral rapper". Much of his viral video work is exclusively published by World Star Hip Hop, but he maintains his own YouTube account as well.
Riff Raff is the originator of a Twitter meme where he analogizes himself to being the rap game's version of a certain individual. These include:
| | | |
| --- | --- | --- |
| " | RAP GAME JAMES FRANCO | " |
| | | |
| --- | --- | --- |
| " | RAP GAME RUDY HUXTABLE | " |
| | | |
| --- | --- | --- |
| " | RAP GAME SUPER MARiO BROS. 3 WHEN U DUCK BEHiND THE BRiCKS & THEN FLY UP BEHiND THE BLACK SCREEN AT THE END & GET STUFF. | " |
List of Social Media Accounts
Edit
References
Edit
Community content is available under
CC-BY-SA
unless otherwise noted.