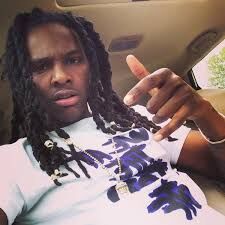 OTF Nunu (1992-2014) Born McArthur Swindle was an american rapper from the stale streets of chicago related to the successful rapper Lil Durk.
Being a cousin of Durk, Nuski was exposed to music by his parents and cousin together they made their music in the span of 2011-2014. Along with RondoNumbaNine being alongside them in music videos about the squad. As his name suggests, he was apart of Durk's Only The Family squad which also consisted of RondoNumbaNine and L'A Capone(1996-2013) to name some notables. In late may 2014 he would release a song that many say was his "death sentence". But in my opinion: I believe he was set up by his girlfriend. On May, 31, 2014 Nuski was parked outside a shopping complex in one of Durk's SUV's when someone pulled up and opened fire hitting him. He attempted to drive off the scene but was railed and crashed into a store. although this was in broad daylight nobody saw the murder. According to some friends of his Nuski was still alive and breathing in the vehicle but police refused to help him and call an ambulance, leading to his death at 21 only 2 days after signing his record label. This murder is also speculated as a avengance of rapper Lil Marc who was gunned down previously for dissing the OTF peoples. Nuski has gained some popularity for his verses on the track OC which includes Lil Durk.

jojo
Community content is available under
CC-BY-SA
unless otherwise noted.