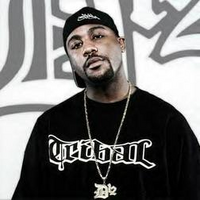 Von Carlisle (born December 10, 1976, age 40), better known by his stage name Kuniva, is an American rapper from Detroit, Michigan and a member of the rap group D12. He debuted his solo career in 2010 with a mixtape. Kuniva is also known by his alter-ego Rondell Beene, and/or Hannz G.
Music career
Edit
In 1996, Kuniva joined D12. He helped record their debut extended play The Underground EP. Kuniva created the alter-ego Hannz G., which changed to Rondell Beene before D12's first album in 2001.
In 2001, Kuniva worked with D12 as they released their first album Devil's Night.
Kuniva made appearences on albums of rappers in D12, such as Bizarre and Proof. He also appeared in Eminem's 2002 album The Eminem Show with the rest of D12 in the song "When The Music Stops".
Kuniva appeared on the album D12 World with D12 in 2004. During Eminem's hiatus, D12 recorded the Return of the Dozen mixtape released in 2008 while Eminem was working on Relapse. Kuniva made more appearences in songs in the mixtape, taking up Eminem's place for the mixtape.
Kuniva went solo in 2010. On February 16, 2010, Kuniva released his digital mixtape called D12's Own Kuniva Presents: Retribution...The Mixtape. The mixtape featured Bizarre, Kon Artis, and a rapper by the name of Beez.
On April 12, 2011, D12 released Return of the Dozen Pt. 2 which was the sequel mixtape of Return of the Dozen in 2008. Kuniva also had solo parts on this mixtape.
In 2011, he released his Mixtape Midwest Marauders Vol.1, which was followed by Midwest Marauders 2 in 2012.
In 2014, he released the album A History of Violence. In 2016, he released the sequel, A History of Violence 2.
Discography
Edit
Studio albums
Edit
A History of Violence (2014)
A History of Violence 2 (2016)
Collaborations
Edit
The Underground EP with D12 (1997)
Devil's Night with D12 (2001)
Limited Edition Mixtape: Please Bootleg This Album with D12 (2004)
D12 World with D12 (2004)
Return of the Dozen with D12 (2008)
Return of the Dozen Vol. 2 with D12 (2011)
Kuniva Presents: Retribution... The Mixtape (Solo, 2010)
Kuniva Presents: Midwest Marauders (Solo, 2011)
Kuniva Presents: Midwest Marauders II (Solo, 2012)
Lost Gold - EP (Solo, 2012)
Kuniva Presents: Midwest Marauders III (Solo, 2012)