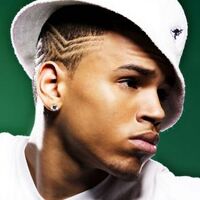 Chris Brown is an American hip-hop and R&B artist. He began in 2005 with his self-titled album, Chris Brown, when he was sixteen. Since then his style has become more refined and mature. His music and dancing has been compared to that of Michael Jackson.
His second album is called Exclusive. The album lead singles like Wall to wall, Kiss Kiss (Ft. T-pain) and Forever. In 2008, Brown's musical setbacks were partially attributed to a domestic assault. At around 12:30am on February 8, 2009, Brown and his girlfriend and fellow R&B singer Rihanna had an argument which escalated into physical violence, leaving Rihanna with visual facial injuries which required hospitalization.
In 2008, Brown began work on his-then upcoming third studio album. According to him, he would experiment a different musical direction for his new album—titled Graffiti—while hoping to emulate fellow American singers Prince and Michael Jackson. He says, "I wanted to change it up and really be different. Like my style nowadays, I don't try to be typical urban. I want to be like how Prince, Michael and Stevie Wonder were. They can cross over to any genre of music." The album's lead singles I Can Transform Ya, Crawl.
Brown's fourth studio album F.A.M.E. was first released on March 18, 2011. The album debuted at number one on the US Billboard 200 chart, with first-week sales of 270,000 copies, giving Brown his first number-one album in the United States.[1]Its lead single, "Yeah 3x", reached the top-ten in eleven countries, including Australia, Austria, Denmark, Ireland, Netherlands, New Zealand, Switzerland and the United Kingdom.The album's second single, "Look at Me Now", featuring rappers Lil Wayne and Busta Rhymes, reached number one on the US Hot R&B/Hip-Hop Songs chart, where it remained for eight consecutive weeks.
Now he's working on his 5. album called Fortune. First single is called Stip. Second singl (Turn up the music) has got remix with Rihanna. It's one of the most controvers song with Rihanna's Birthday Cake (ft. Chris Brown) this year.
Discography
Chris Brown (2005)
Exclusive (2007)
Graffiti (2009)
F.A.M.E. (2011)
Fortune (2012)
Grammy Nominations
2012 Grammy Nominations
Community content is available under
CC-BY-SA
unless otherwise noted.