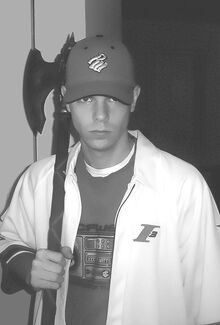 Axe aka Axe God from Jacksonville, FL co-founded and pioneered the first battle rap leagues along with Philadelphia rapper Fam Nice in the late 1990s. The most popular being Sacred Society and The Chamber battle leagues. Young was also inducted into the Battle Rap Hall of Fame and has recorded 22 independent albums in various genres including heavy metal, jazz, rock, country, gospel, and electro funk under his label Axe Music, Inc. He is also a former military survival equipment specialist and founded the veterans organization US Veterans Lighthouse to help veterans with PTSD and other war related injuries.
Contents 
1 Overview
2 Sacred Society Battle League
3 Discography
4 Singles
5 Collaborative albums
Overview
[
]
Axe is a co-founder of Sacred Society Battle League, which includes Jive Records artist Mickey Factz and Rawkus Records artist Novel Stevenson. Between 1998 and 2002 Axe also created several of the internets first battle rap websites which greatly increased the popularity of the rap battle scene. Battle leagues such as Ell Oh Crew, New Jerusalem, Sacred Society, Ground Zero, and The Chamber were extremely popular among rookie and veteran battlers in the late 1990s and early 2000s.
While no longer a battle rapper he continued to manage the production of Sacred Society albums and mixtapes. Besides creating the artwork for Sacred Society albums several Sacred artists also feature his artwork on their covers including 13adluck'sSnortfolio Volume 2 and Franky Goya's Suck My Style.
On Febuary 7, 2020, a Pittsburgh man impersonated Axe to get a battle in the highly popular Canadian battle rap league KOTD (King of the Dot). The man copied his look and style enough to temporarily fool KOTD and his rookie opponent Reek Havic. During the battle, The impersonator referred to events in Axe's music career and came off as doing Reek Havic a favor by accepting a battle against a rookie, however, was not able to completely pull off Axe's highly aggressive style as he gave a mediocre performance and clearly lost to Reek Havic. The undefeated Axe responded to his antics by saying, "this is the weirdest case of identity theft ever" and "this guy has reached Stan Level 9000" referring to the Eminem song "Stan" about a highly obsessed fan.
Sacred Society Battle League
[
]
In 1999, battlers Fam Nice and Axe who were members of Ell Oh Crew, branched out to create the forum style version of battle rap that is currently used today with their leagues Sacred Society (formerly known as New Jerusalem). Those sites conducted battle rap in both audio and text. However, it was first and foremost a battle league. Sacred Society had interviews, hip hop news, tournaments with rookie and pro levels known as the Boot Camp and the Gravel Pit and big yearly tournaments were known as Pay-Per-View. There was a cash pot and the winner took all. PPV 8 was the last of these tournaments. Battlers were also ranked and competed for the top position known as the "Supreme Lyricist" on a monthly basis. The "Esco Award" was given on a monthly basis as well for the emcee with the grimiest, darkest content and style.[6]
Discography
[
]
Link to Discography:

www.AxeGod.bandcamp.com

| | | | |
| --- | --- | --- | --- |
| 61' Chevy [8] | 2006 | Axe, Trappa Cell | Hip Hop/Hardcore Rap |
| Welcome To The Choppin' Block [9] | 2009 | Axe | Hip Hop/Hardcore Rap |
| Dark Castle [10] | 2010 | Axe | Horrorcore |
| Monsters [11] | 2011 | Axe | Horrorcore |
| Tormented [12] | 2011 | Axe | Horrorcore |
| Beast Mode [13] | 2012 | Axe | East Coast Hip Hop |
| Beach Cruiser [14] | 2012 | Axe | West Coast Hip Hop |
| Gaslamp [15] | 2013 | Axe | Jazz |
| Arkadelphia [16] | 2013 | Axe | New Age/Electronic |
| The Devil Made Me Do It [17] | 2014 | Axe | Old School Hip Hop |
| High Voltage [18] | 2014 | Axe | Old School Hip Hop |
| Scott Young: The Higher Achievement [19] | 2015 | Axe | Rock/Soul/Funk |
Singles
[
]
Axe (Singles)

| Track | Year Released | Producer(s) | Genre |
| --- | --- | --- | --- |
| White Weed [21] | 2006 | Lil' C/Axe | Hip Hop/Hardcore Rap |
| As Long As I'm Alive [22] | 2012 | DJ Premier/Axe | Hip Hop/Hardcore Rap |
Collaborative albums
[
]
Axe (collaborative albums)

| | | | |
| --- | --- | --- | --- |
| Sacred Society - Ancient Philosophies Vol. 2 [24] | 2009 | Axe | Hip Hop |
| Sacred Society - Ancient Philosophies Vol. 3 [25] | 2011 | Axe | Hip Hop |
| Sacred Society - Cigar Room [26] | 2012 | Axe | Hip Hop |
| Sacred Society - Global [27] | 2012 | Axe | Hip Hop |
| Sacred Society - Seven Swordz [28] | 2013 | Axe | Hip Hop |
| Sacred Society - Catacombs [29] | 2014 | Axe | Hip Hop |