Chad Bromley (born March 8, 1979), better known as Apathy (formerly Apathy the Alien Tongue) is a white underground rapper and producer from Willimantic, Connecticut. He attended high school at various schools in Connecticut. He is a re-founding member and unofficial leader of the Demigodz rap group.
His first appearance was on Jedi Mind Tricks's The Psycho-Social, Chemical, Biological & Electro-Magnetic Manipulation of Human Consciousness on the tracks: "The Three Immortals", "Omnicron" and "The Apostle's Creed". Apathy frequently collaborates with Demigodz members, Motive, Esoteric, and Celph Titled, who frequently produces for him. He is also a member of the super-group Army of the Pharaohs (founded by Vinnie Paz from Jedi Mind Tricks) and the Connecticut crew Doe Rakers with frequent collaborators Motive and Emilio Lopez. His DJ is Chum the Skrilla Guerilla. At one time, Apathy was signed to Atlantic Records, however after being shelved for many years, he finally decided to leave.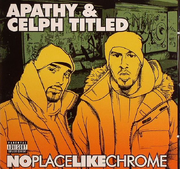 He released his debut album, Eastern Philosophy, in March, 2006 on Babygrande Records. Most of his previous underground work has been collected on two albums: the two-disc It's the Bootleg, Muthafuckas! Vol. 1 and Where's Your Album?!!. Apathy released another collection of his most recent works, Baptism by Fire, in January, 2007. He has also criticized the overuse of Auto Tuning by certain artists stating, "You ain't a computer, you ain't from the future, and you ain't got a tumor, so why you do to your voice, shit to make it sound stupider". He is also in a group called Get Busy Committee.
Apathy works with other MCs and groups such as Demigodz, Celph Titled, Doe Rakers, Jedi Mind Tricks, Army of the Pharaohs, Styles of Beyond, and the Get Busy Committee.
Eastern Philosophy (2006)
Wanna Snuggle? (2009)
Honkey Kong (2011)
"Connecticut Casual" (2014)
Where's Your Album?!! (2004)
Baptism By Fire (2007)
To be announced (2011)
It's the Bootleg, Muthafuckas! Vol. 1
Hell's Lost & Found: It's The Bootleg, Muthafuckas! Vol. 2
The Black Lodge
Make Alotta Money (2010)
Primate Mindstate (2011)
Weekend at the Cape (2015)
Army of the Pharaohs - The Torture Papers (2006)
Apathy and Celph Titled — No Place Like Chrome (2007)
Demigodz - The Godz Must Be Crazier EP [Re-Issue] (2007)
Apathy and Scoop Deville - Get Busy Committee (2009)
Army of the Pharaohs - The Unholy Terror (2010)
Community content is available under
CC-BY-SA
unless otherwise noted.