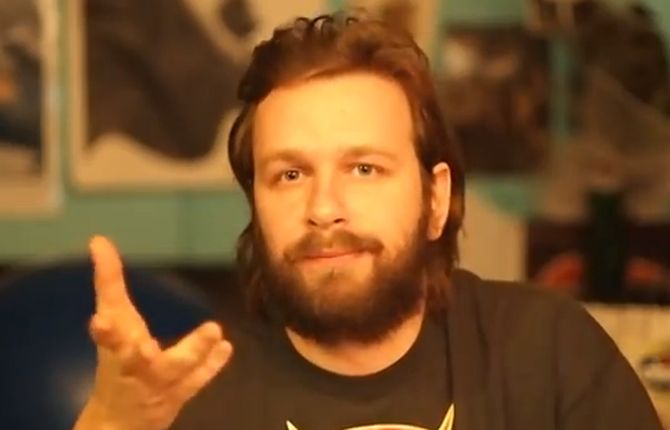 Đorđe Miljenović (Serbian Cyrillic: Ђорђе Миљеновић; born December 10, 1980) better known by his stage name Wikluh Sky (Serbian: Виклер Скаj, Vikler Skaj) is a Serbian musician, rapper, and producer.
Best known for being a member of Bad Copy hip-hop trio, he is also a part of Marčelo's accompanying Filter Crew, and raggamuffin group/project Shappa. In addition to participating in all of the above groups and projects, Wikluh Sky maintains a solo career as well.
He graduated from musical high school, additionally completed two years of Belgrade Music Academy beforedropping out. After taking part in various hip-hop related endeavours, he lately started branching out into different kinds of music exemplified in Frank Zappaesque rock-opera called Zagađenje u Japanu ("Pollution in Japan"), which was his first release under his birth name. He played most of the instruments on that album.
His second solo album Ortaci ne znaju ("Homies Don't Know") was released in November 2007.
In 2007, he wrote and produced several tracks on Ana Stanić's album Sudar[1] that came out in March 2008. Also in early 2008 Wikluh Sky recorded a song called "Lova" with Šaban Bajramović for the TV series Vratiće se rode.
In March 2008, he appeared as contestant on Veliki brat VIP, which further raised his public profile. In late 2008, he again appeared in another TV production of Emotion company - Operacija trijumf.
In 2009, he produced the S.A.R.S.' debut album.[2] He also wrote the music and lyrics of the song "Pazi šta radiš" that was perfermoed by Tijana Bogićević at Beovizija 2009.
He is the composer for the 2010 movie A Serbian Film.
Zasto brate vikler ? (2004)
Edit
1. Intro

2. Belac Pevac
3. U klubu (Feat Seven)
4. Sonta Za Bakalar
5. Moj Voz
6. Luna Park (Feat:Ajs Nigrutin & Timbe)
7. Ajd Sad (Feat: Timbe)
8. 23 (SBZ)
9. NMGDVRJM (Feat: Ajs Nigrutin)
10. O Kraju
11. Ja Sam Kao (Aha-aha)
12. Skit Skil
13. Navali Narode (Feat: Marchelo & Bvana)
14. Parizer Clubbin
15. Ko Je Ril Ko Se Sprda
16. Povracam (Feat Seven)
17. Najgori Seljak U Ekipi
18. Gde je hip-hop nesto ?
19. Nezasit (Feat: Eufrat & Luca)
20. U kandzama vepra
21. Ides u Kurac
22. Pokvaren do srzi (Feat: Eufrat & Sha)
23. Za sestre i brace (Outro)
Zagadjenje u Japanu (2006)
Edit
2.Promenicu Pol
3.Povratak Grindovih Zvezda
4.Tuzna Pesma O Zavicaju 
5.Americka Trilogija 1
6.Americka Trilogija 2
7.Americka Trilogija 3
8.Tragedija Nenormalno Velika
9.Zagadjenje U Japanu
Ortaci Neznaju (2007)
Edit
1. Intro
4. Prave barabe
5. Kao svinja svaki dan
6. Ortaci ne znaju
7. Sledeca stanica
8. Posle kiše
9. Zakopana kučka feat. Mirza
10. S tobom ili bez tebe
11. Nedeljno jutro
12. One lažu vas feat. Ministar Lingvista
13. Tako radimo feat. Ajs Nigrutin
14. Udarac feat. DJ Rahmanee
15. Ovaj grad nikad ne spava
16. Šta ti je brate
17. Znam ja ko si ti
18. Pobednik
Community content is available under
CC-BY-SA
unless otherwise noted.