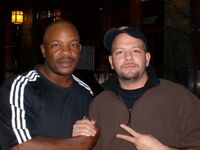 The Dangerous Crew is a rap group formed by Oakland, California rapper Too Short. One of the first rap groups after The Roots to use live instrumentation,[citation needed] they were introduced to the masses in 1992 on the Shorty the Pimp album. The Dangerous Crew consisted of both live musicians and rappers: Shorty B (bass, guitar, drums), Pee-Wee (keyboards, drums, guitar), Ant Banks (keyboards, drum programming, mixing), Sean G (live drums), and rappers Too Short, Goldy, Rappin' Ron, Ant Diddley Dog, Spice 1 and Father Dom. The Dangerous Crew also had an R&B group known as About Face, who appeared on a few of the later releases by Too Short.
By 1996, the Dangerous Crew were responsible for 8 platinum and three gold albums.[citation needed] Although the Dangerous Crew had disbanded by 1996, many members went on to have successful solo careers. Too Short continues to release album after album, Ant Banks has gone on to produce on gold and platinum albums for many successful artists such as E-40, Snoop Dogg, Ice Cube and even still with Too Short, while also producing two sound T.W.D.Y. albums (Derty Werk and Lead the Way). Shorty B has played guitar on many gold and platinum albums by artists such as TLC, 2Pac, Brandy, T.I. and others.
Discography
Edit
Studio albums
Edit
Community content is available under
CC-BY-SA
unless otherwise noted.